10 Of The Best Children's Chairs And Tables In Australia In 2023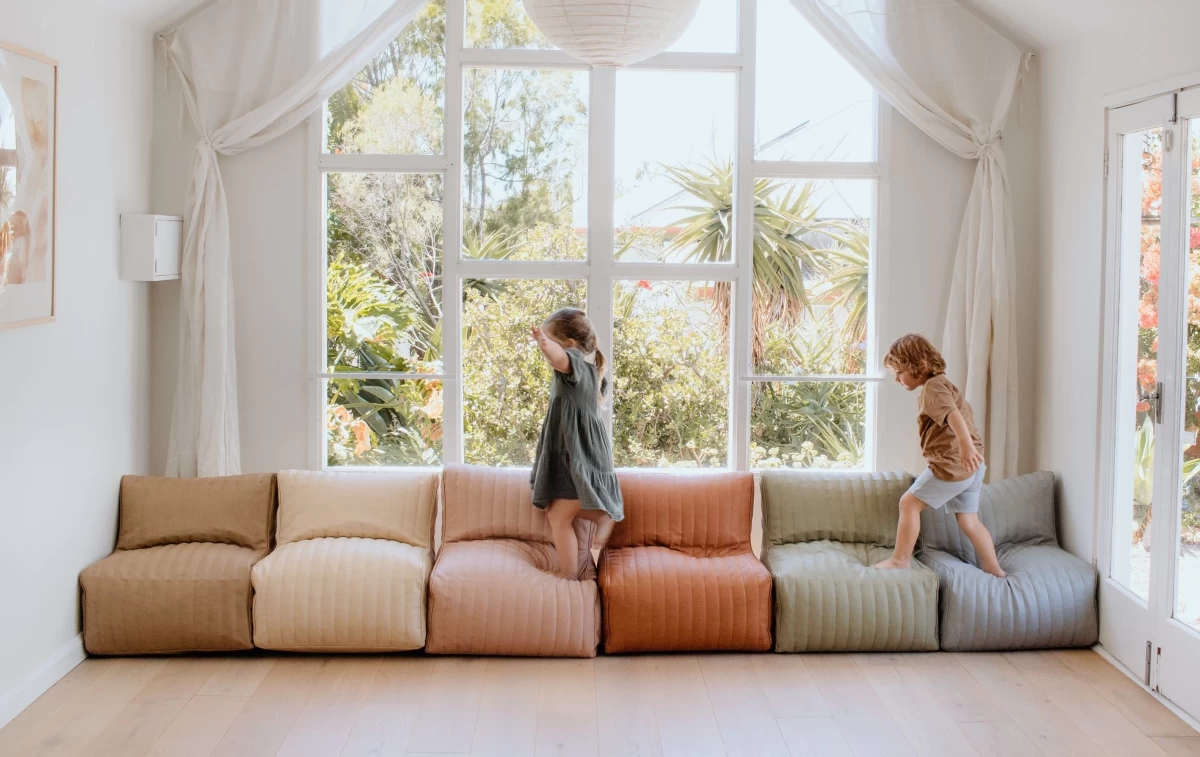 As your child begins to start walking, you'll realise that your house takes on a whole new feel, and your old rocker, baby bouncer and walker may need to be packed away, as it's time to look at upgrading to some proper kids chairs - and furniture - that they'll actually want to use.
Upgrading from 'baby furniture' to 'big children's table and chairs' can be a big and exciting deal for lots of little ones, and can provide adequate encouragement in perhaps a new reading corner, or an exciting new dinner set up, as well as adorable furnishings for their big kid bedrooms.
So what should you be looking for in kids chairs and furniture?
Read More ...
Comfort
The most important thing is that your child actually wants to sit in the chair or furniture that you've bought! Anything that's uncomfortable will most likely sit in the corner collecting dust. Likewise, we don't want their posture to be affected or their backs to become sore due to uncomfortable furniture.

Style
These days, children's spaces can now adopt a more Scandinavian/minimalist style that fits in with the rest of your home. You can ditch the multi-coloured, rainbow-coloured child-focused furniture, in favour of something both kids and parents alike will love!

Easy to clean
Kids being kids, means that there are bound to be a few spills on their new furniture. Always choosing fabrics and surfaces that are easy to wipe down is key, and removable, machine-washable covers are ideal, as they can simply be thrown in the wash when soiled.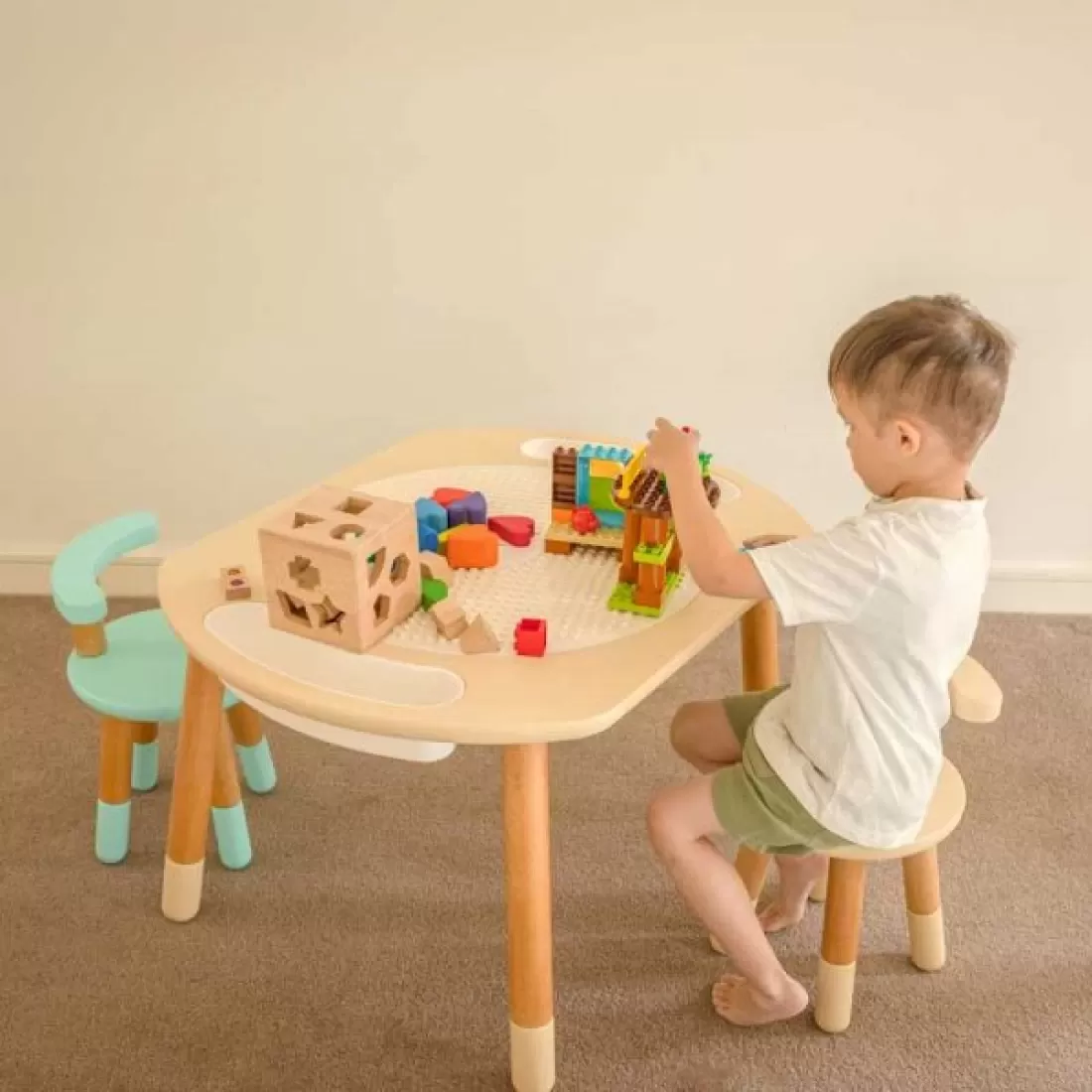 If you're looking for the ultimate play and learn space for your child, the Ria Baby 3-in-1 Activity Table Set has everything your child needs to stay entertained and get creative.
What makes 3-in-1 Activity Table Set with Adjustable Legs different?
Not just a regular table and chair set. This round table comes with a flippable surface, that exposes a Lego/Duplo-compatible surface. Better still, if you lift this surface away from the table, a hidden bag is suspended from underneath, and it's the perfect spot to stash the Lego when it's not in use. The Ria Baby Activity Table also comes with a range of reusable activity sheets, allowing everything from colouring, to snakes and ladders! Better still, the table comes complete with a matching chair, that has adjustable legs, meaning it cater to members of the family of different ages!
Why try 3-in-1 Activity Table Set with Adjustable Legs?
Luxuries Reward Winning Design

Lego + Learning + Table

Comes with a Matching Chair as a set

6 Games/Learning Activity Sheets Inclusive (3 double-sided Gaming Mats) PE Coated, they're Easy wipe clean.

Lego Storage bag in the middle of the table (Access in the middle of the table from the tabletop)

Encourage good postural habits – Adjustable Table and Chair to grow with your little ones (You can adjust table/chair height to be higher or lower)

Made of A-grade solid beechwood, carefully crafted with rounded corners.
Available in dusty pink, stormy grey, ocean blue, warm beige and turquoise green.
The ultimate destination for play and relaxation, the ARKI Tribe Lounger can be reconfigured to satisfy even the wildest imaginations!
What makes ARKI Tribe Lounger different?
All cushions from the ARKI Tribe Lounger are made from CertiPUR-US certified foam with antimicrobial treatment, with inner material foam covers. The outside fabric covers are removable and washable. ARKis are manufactured with tab-less childproof zips making them extra kid-safe.
The ARKI Tribe Lounger comes in a range of different colours, so you're sure to find the one that suits your space best.
Why try the ARKI Tribe Lounger?
8 Individual Pieces

2 Arch shaped arms for endless build possibilities

Unique Velcro tab system for stronger builds

Thoughtfully designed non-slip backrests

Internal material foam covers for extra spill and hygiene protection
Real customer reviews:
""I could not be happier I chose the ARKi play couch. As this was a big ticket item, I researched for ages and looked at lots of different brands. I chose the Lounger because the design looked well thought out with attention to detail. The ARKi has exceeded my expectations. The quality is amazing and the pieces are versatile. My 14 month old squealed with excitement the moment we opened the boxes and there has been much laughter and fun since!""

- Fiona M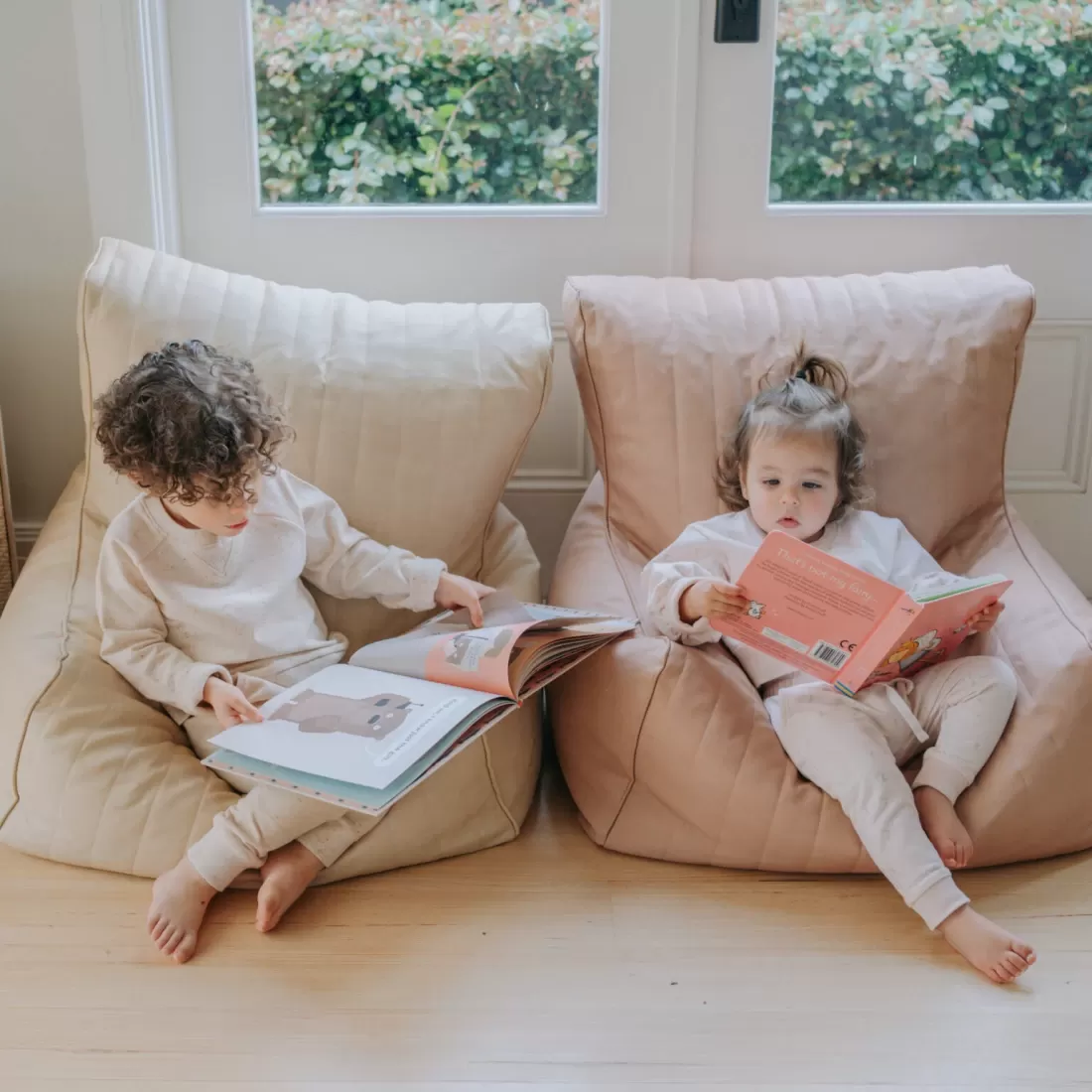 When you think of 'cool kids furniture' Henlee is what should come to mind. The ultimate option for any bedroom, Henlee Mini Loungers are aesthetically dreamy, incredibly comfortable chairs for children - and loved by parents and kids alike!
What makes Henlee Mini Lounger different?
Made with soft, wipe-clean, premium vegan leather, the Henlee Vegan Leather Beanbag Loungers are perfect for your little ones to play, read and snuggle up. Not just for your child's bedroom, the Henlee Mini Lounger is perfect for anywhere they like to chill - like the playroom, the lounge room and even the back deck!
Why try Henlee Mini Lounger?
With a modern style that's bang-on-trend and a range of colours to choose from, the cute but super-luxe Henlee Mini loungers are a great way to keep the kids comfy without messing with the aesthetics of your favourite room.

They're practical, easy-to-clean and certified vegemite fingers-resistant. Bye bye primary colours - hello cool children's furniture!

Real customer reviews:
""I got the mini lounger in tan and I can't believe how stylish it looks in my home my little guy loves to chill on it and watch tv.""

- Ashley W
""We purchased the ECRU Mini Lounger and it is an absolutely stunning addition to our little boys room. The quality of the entire price is amazing and the easy wipe down of the vegan leather is so convenient with a very active little 10 month old who is climbing all over it. Can't wait to purchase more from this incredible brand!""

- Lauryn H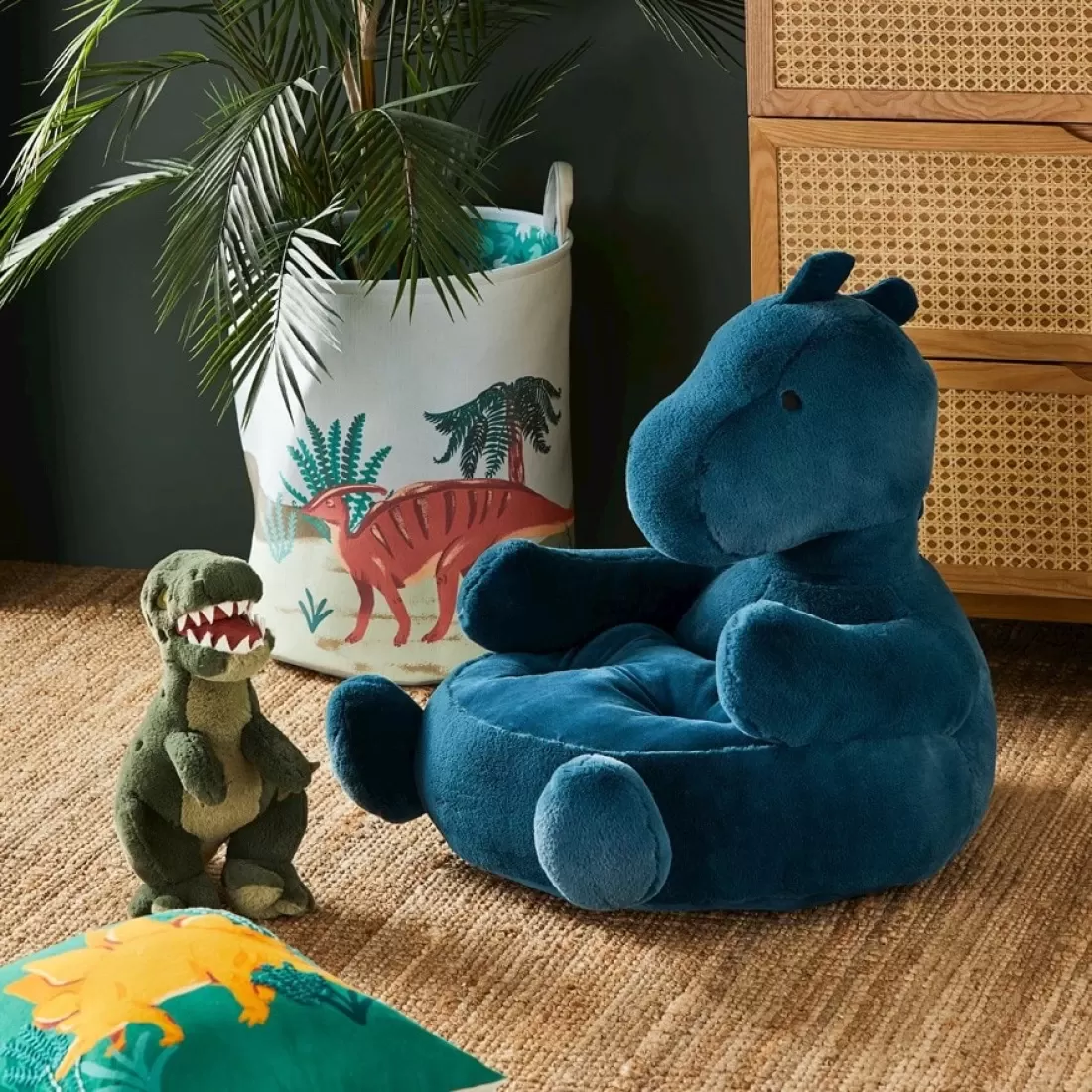 Got a wild child on your hands? We've got the perfect cuddle chair for them! The Adairs Kids Animal Blue Dino Cuddle Chair will create quite an impact in any child's bedroom.
What makes Adairs Kids Animal Blue Dino Cuddle Chair different?
This plush Animal Cuddle chair is the most comfortable companion for reading, relaxing and snuggling. Available in new shapes for everyone's favourite. Choose from the Lion, the Unicorn, the Bunny - or the Dino!
Suitable for 12+ months.
Real customer reviews:
""Comfortable, 5 year old was very happy with it.""

- Anchal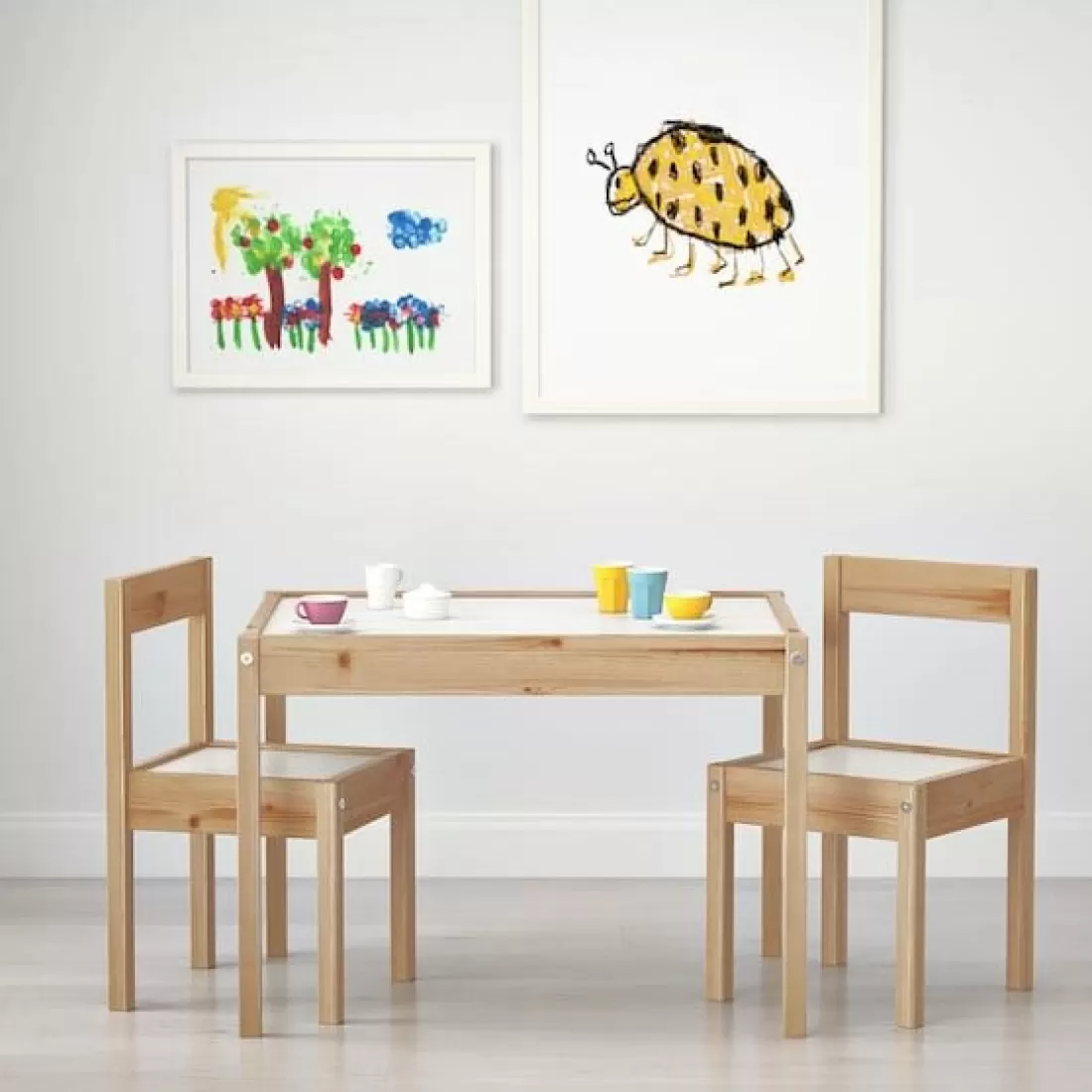 Looking for a seating option that's simple, durable and comfortable for your kids? The IKEA LÄTT Children's table with 2 chairs is an affordable option you won't regret.
What makes IKEA LÄTT Children's table with 2 chairs different?
With this table and chairs you can easily create a durable arts and crafts corner for your child. The frames are made of solid pine and have a white foiled surface on top that is easy to wipe off.
Why try IKEA LÄTT Children's table with 2 chairs?
Its small dimensions make it especially suitable for small rooms or space, and the IKEA LÄTT Children's table with 2 chairs is just as suitable for dinner times as it is for craft and play! Able to be enjoyed indoors or outdoors, it's a perfect option for children of all ages.
Real customer reviews:
""I was unsure if my boys would like this and if they would actually use it but they love to bits the chairs are a great height for my 17 month old and table can have both kids sitting at the same time.""

- Jenni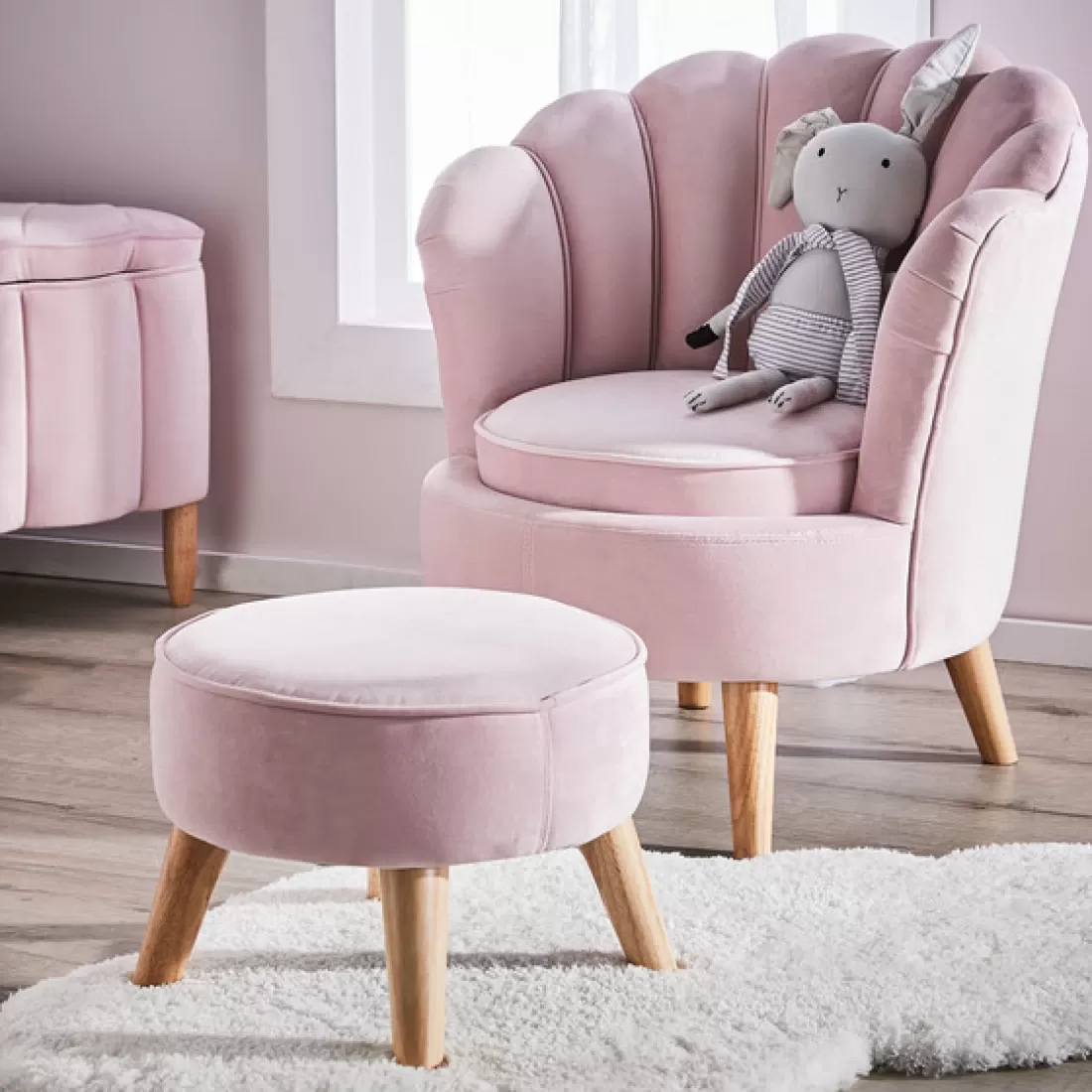 Every little girl - and even some little boys! - has dreams of being a mermaid, but there's no need to live in the ocean when you can relax in lush comfort with the Venus Chair 1 Seater + Footstool in tones of soft lilac from Fantastic Furniture!
What makes Fantastic Furniture Venus Armchair With Footstool different?
This shell-inspired seating set is part of a wider range of coordinating looks, including a storage box and bed for the complete mermaid fantasy. Why not set up the whole look and create a mermaid dream bedroom?
Why try Fantastic Furniture Venus Armchair With Footstool?
The lilac polyester velvet fabric is so soft to the touch, and the set itself is generously sized (68cm x 103.4cm x 103.4cm) so your kids won't grow out of it too quickly.
Real customer reviews:
""I ordered this for my granddaughter and she absolutely loves it. It's very sturdy too which is great because she's only just turned one. The online purchase and delivery process was amazing. Constant communication and earlier delivery than expected. Thanks so much!""

- Ms D
This coordinated set from Big Fun Club comes as a coordinated set with one table and two chairs that fit together conveniently to avoid taking up too much space.
What makes Big Fun Club Raya Kids' Table & Chairs Set different?
Made from birch plywood for natural strength and style, the chairs and table can hold 50kg each to support little ones with ease. The Big Fun Club Raya Kids' Table & Chairs Set works well as a two-child desk so that they can work and play together, and the chairs can be stored within the desk, under the top, for space-saving convenience and to transform into a display cabinet. With a neutral finish for stylish, gender-neutral appeal, the innovative design can be arranged however you like to suit your needs.
Why try Big Fun Club Raya Kids' Table & Chairs Set?
The desk of the Big Fun Club Raya Kids' Table & Chairs Set can be rotated to turn into a large, open table — perfect for tabletop activities and meals, and the desk can be further rotated to transform into a petite, two-kiddo sofa. With cut-out holes for handles in the chairs and the table for kid-safe access points, as well as curved bodies with no sharp corners for a safer design.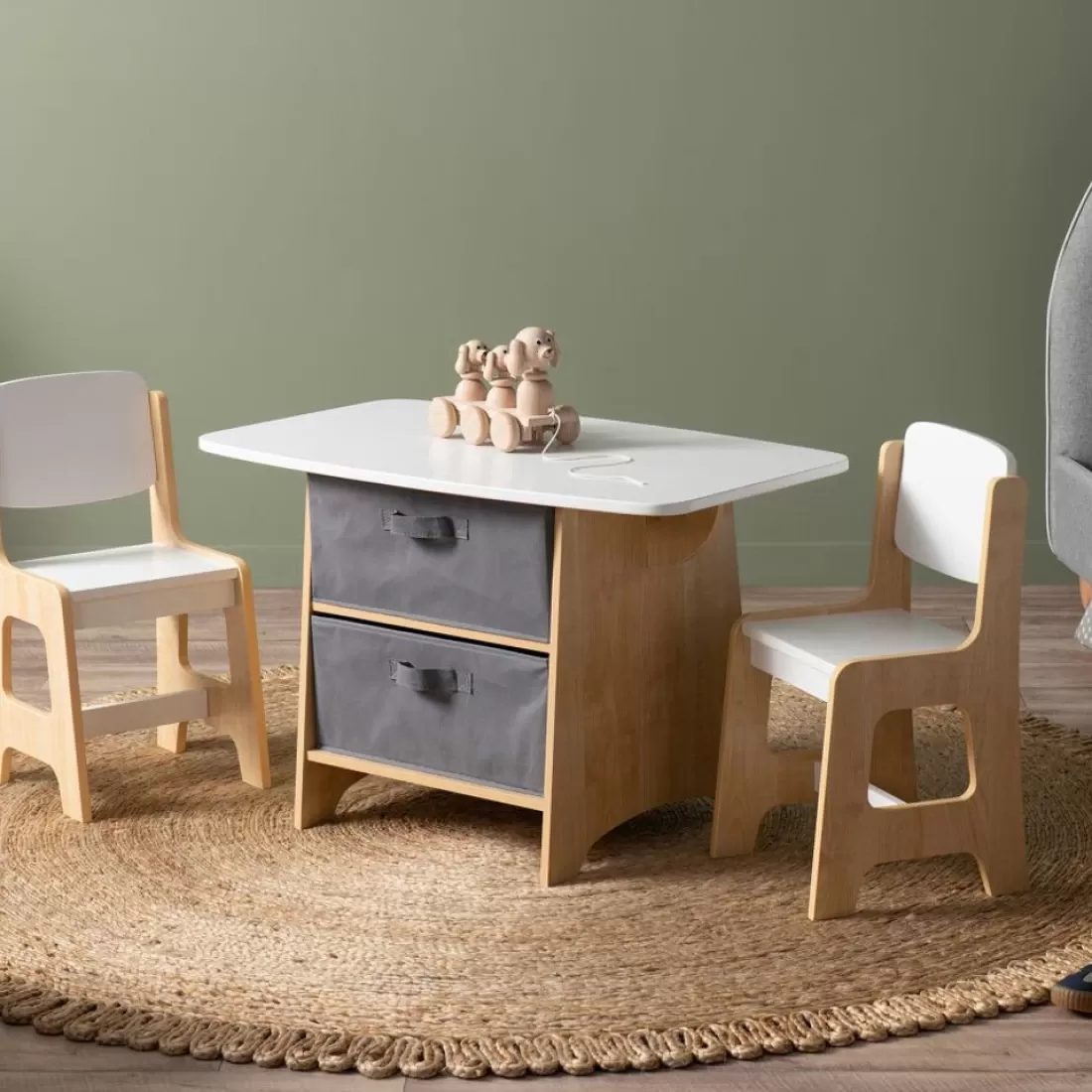 The Mocka Isak Kids Table and Chairs Set gives kids the freedom and independence to eat, play and create at their very own table.
What makes Mocka Isak Kids Table and Chairs Set different?
Designed at the right height for little ones, this adorable kids table and chair set is suitable for children ages 2 years and up. Featuring two grey fabric basket drawers that fit inside the table, you'll have the ideal place to tidy away toy and craft activities such as toys, pencils, markers, papers and other supplies.
Why try Mocka Isak Kids Table and Chairs Set?
The simple, white, grey and natural design of the Mocka Isak Kids Table and Chairs Set gives this activity table a modern style that suits a range of interior styles. This neutral colourway is easy to position in a kid's bedroom, playroom or even in the living room.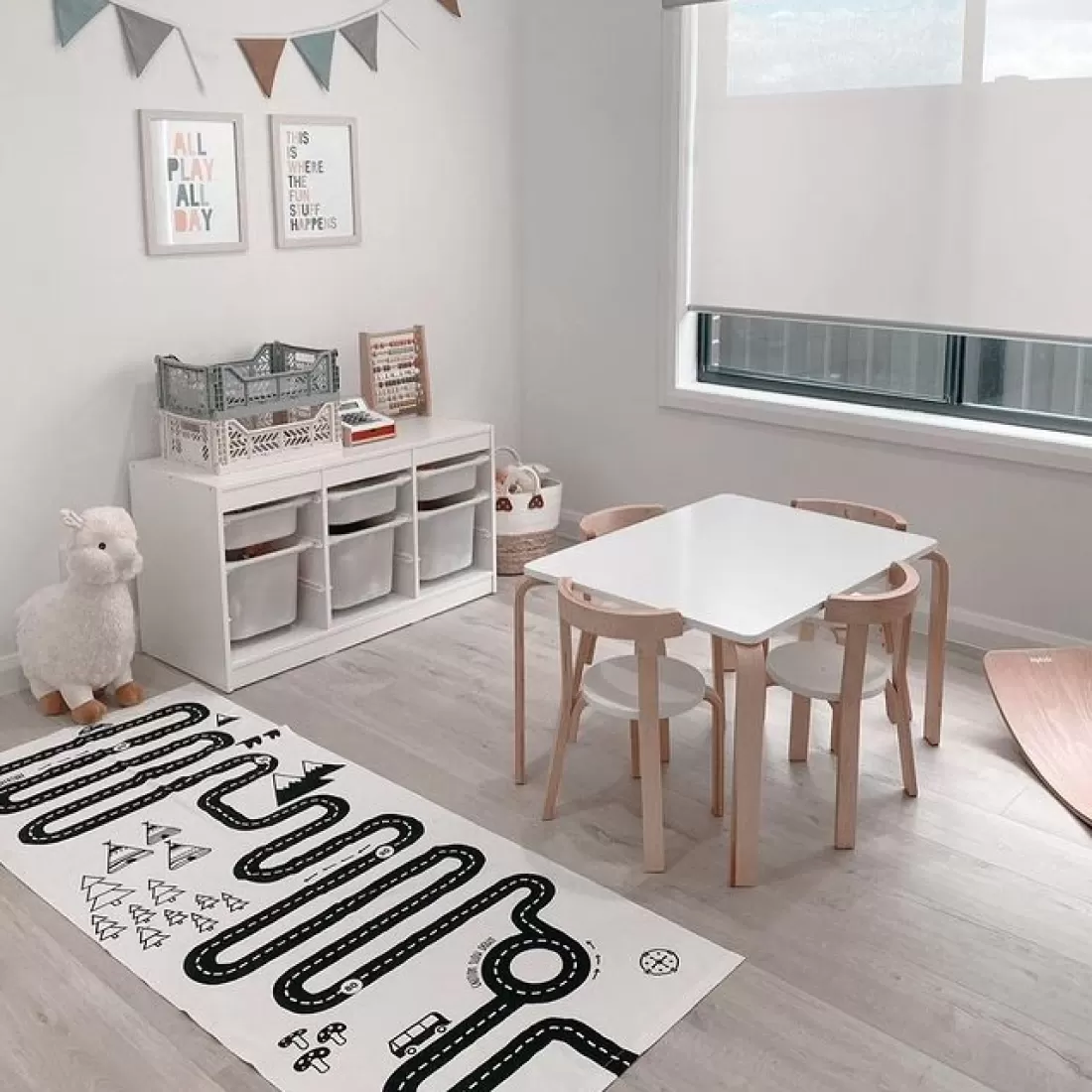 The HipKids Jensen Kids Table & 4 Chair Set is very sturdy, made from solid poplar and birch plywood it's very light to move around.
What makes HipKids Jensen Table & 4 Chairs Set different?
Both table & chairs legs are left in natural timber, sealed with a non toxic lacquer. While the table top & chair seats are finished in a non toxic white coloured paint. It's modern scandi design will complement any playroom or bedroom.
To help protect your floors this set also come with felt pads for under feet.
Why try HipKids Jensen Table & 4 Chairs Set?
Features:
This set includes4 Chairs

Modern Design

Sturdy yet light to move around

Suitable for children aged 2-6 years

Easy to assemble
Dimensions:
Table top: L80 x W60cm

Table height 50cm

Chair seat diameter 26cm

Chair seat height (from floor) 31cm

Chair height overall 50cm
Real customer reviews:
""Looks great, surprisingly it fits my tall 7yo comfortably with two younger siblings. Easy to clean and looks great.""

- Brooke D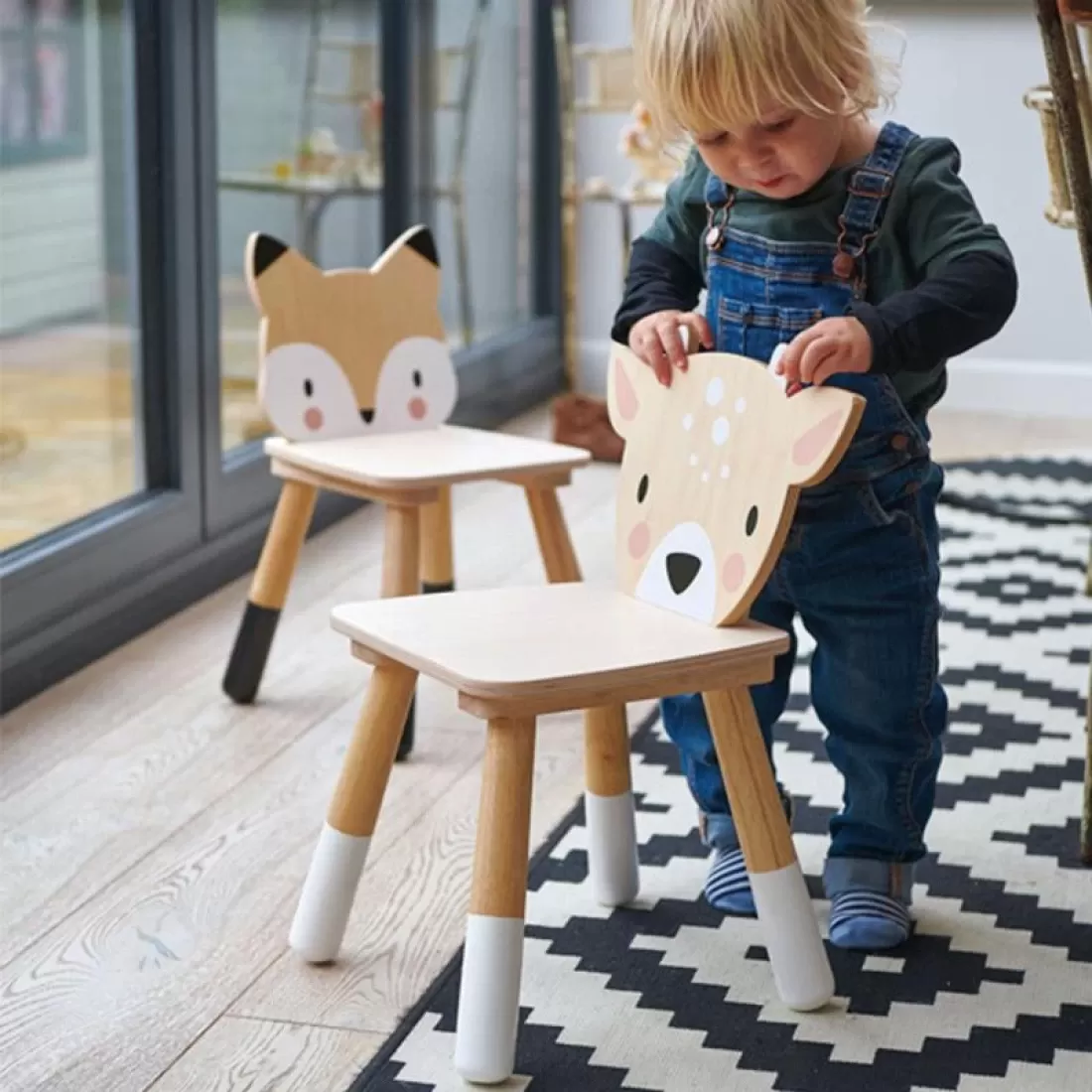 Add a hint of wonder to your little one's room with the My Happy Helpers Forest Deer Chair!
What makes My Happy Helpers Forest Deer Chair different?
A very sweet plywood chair with black accents on the legs and adorable deer character back. This beautiful chair adds a wonderful and whimsical touch to a room.
Mix and match with the other chairs from the range, such as the rabbit, bear or fox!
Why try the My Happy Helpers Forest Deer Chair?
The My Happy Helpers Forest Deer Chair features a rounded corner so they will not harm your kids while playing. Made from the highly renewable rubber tree wood, the chair is also adorned with Non-Toxic Water-Based Paint for your child's safety.


Shop & earn $ at One Fine Baby!
You read that right! For every purchase you make on the One Fine Baby Shop you earn $ rewards to spend on your next purchase. It's really that easy. As soon as you purchase you're signed up and earning $. Find out more about the rewards program here.