The Baby Bags Have Arrived!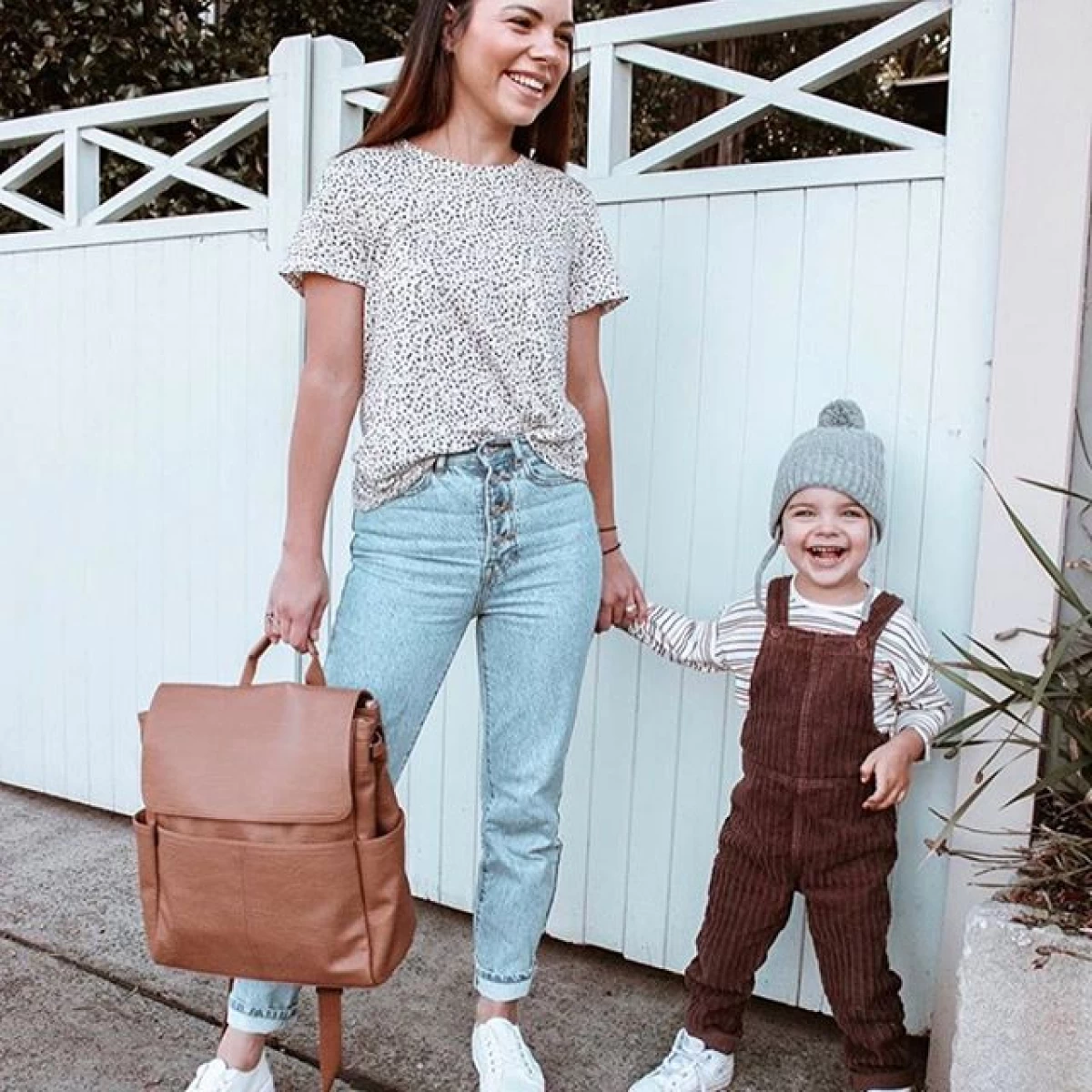 Finding the perfect nappy bag is one of those odd journeys in pregnancy where you don't know where to start! Exactly what is a baby bag? Do I need to get a baby bag? What does it need to have in it? What will my husband use for a bag? Where can I find the best baby bag?

All these questions is what owner of Arrived, Karen Entwistle, played around with in her head when she had her first son. She wanted to find a bag that lasted the test of time, that was strong and durable and that her husband wouldn't be afraid to pick up when he was on duty. In comes the brainwave for Arrived!
The top reasons whey we love this brand:

- The style. The brand is stylish and classic, suits any occasion and will fit everything you need in.
- The quality is long lasting and can pass through the generations.
- The fact that it is unisex means that no matter what happens the one bag is suitable for either parent and you don't lose any bits and pieces by transferring from bag to bag.

We spoke to Arrived owner, Karen Entwistle about the inspiration behind the brand. She's one multitasker of a woman with an eye for style and has done her research to create this beautiful collection!
Congratulations on this exciting launch of Arrived! Please tell us more about the brand and how you came up with the idea for this business.
Thank you. Arrived was an idea I originally thought about 3 years ago whilst I was pregnant with my son Oscar. I have quite a minimal style and didn't want a baby/nappy bag that actually looked like one. Also, my poor husband didn't want to walk around with a bag that looked too feminine. I also wanted to invest in a bag that I could use once Oscar was older.
Last year I was working full time and took the leap to start my own business this is when Arrived was conceived.
The Arrived range has been brought to life with varying designs and not only for mums but also dads. Where did the inspiration come from?
I did a lot of research into what parents wanted, they didn't want a baby bag with too much hardware and branding everywhere. They wanted quality and styles that could be used for other things apart from carrying on your pram, this is why all our bags have either a laptop or tablet padded pocket. They have multiple uses: going to the gym, brunch with your friends, an overnight trip or using as your hand luggage when traveling. I also wanted the bags to be functional, so they are easy to use and easy to find your emergency wet wipes and nappy
Why is your brand different to what you may find in mainstream stores?
I think the styles are a lot cleaner and not fussy. The outsides are understated with just a small branded tag (on the left side as this is where your heart is!) On the inside is all the bells and whistles: laptop/table pocket, phone pocket, padded sunglass pocket, credit card pockets, detachable key-ring, insulated pocket for bottles, pockets for nappies and other bits and pieces and not to forget the cute slogan change mat.

Advertisement
Continue Reading Below
We know it is like choosing your favourite child, but is there a favourite bag that means something to you?
Ha-ha yes there is, it has to be The Oscar Baby Bag Backpack, obviously named after my son! This bag has so many functions and can be used for the gym and weekends away etc. My husband loves this bag! I l also like using nylon material as it's durable but also on trend / I have a journal called the Nylon revolution https://arrived.shop/blogs/journal/the-nylon-revolution
Compliments often come in small packages, what are some of the best compliments you have received from other mums about your product?
Several customers have commented that the bags look even better in real life. One lovely mum sent a photo of her daughter wearing The Hayes backpack and said she was worried she would not get it back of her as she loved it so much.

We love that you donate with every purchase to the Gidget Foundation Australia. Why is this so important to you?
Gidget Foundation Australia was a natural fit for Arrived, as they support expectant and new parents experiencing, or at risk of, perinatal depression and anxiety. I wanted to give something back, to a cause that played a fundamental role when I was pregnant. Gidget Foundation Australia played an extensive part in my recovery from both pre to postnatal anxieties. I am also a Gidget Angel and have shared my journey in hopes it may help other parents. https://gidgetfoundation.org.au/our-stories/karens-story/
As a mum do you have any advice you could pass to other new mums?
Do not put too much pressure on yourself, just because 'Sophie's' mum in Mothers Group says Sophie is sitting up / crawling etc. it doesn't mean your beautiful baby has to be matching that milestone…all babies are different and it WILL happen. Also, if you are struggling with your baby sleeping get a sleep consultant, best money we ever spent!
If you were a kid again, what would you tell your adult self?
Don't put to much pressure on yourself, you may not be the smartest kid in the class, but you can do it and don't give up.
What is one life lesson you hope to pass on to your children and why? (Also please include your child's name and age).
A very simple lesson that I teach Oscar who is 2 and a half is to say please and thank you, manors don't cost anything (Oh no….I sound like my mum now as she taught and said exactly the same thing!)
What's your ultimate mum hack?
Routine is key, I know it can be difficult at times and in certain situations, but it really does help, and Oscar loves it (most of the time!)

We hope you got to know a little bit more about this amazing brand and what they have to offer. You can find their full range on our shop right here!